Business Continuity in Times of COVID-19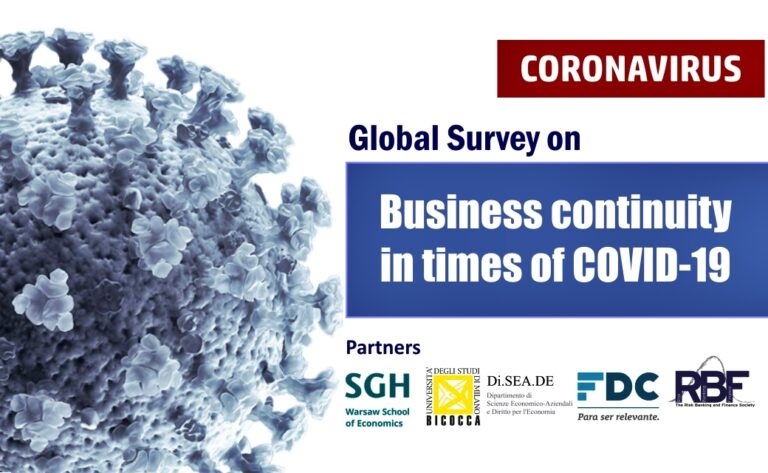 Together with SGH-Warsaw School of Economics, University of Milan-Bicocca, Fundação Dom Cabral, the Risk Banking and Finance Society is launching a global survey on business continuity in times of COVID-19.
Many organizations have business continuity plans (BCPs) and manage business continuity (BCM). This is due to, among others, regulations (e.g. banks) or the use of ISO standards (ISO 22301), as well as good management practices. The coronavirus pandemic is an event that has evaluated BCP/BCM in practice.
We are kindly asking you to complete the following survey, which will be helpful in assessing the impact of the COVID-19 pandemic on the risk management practices.
In case you do not feel to answer or you are not involved in BCP, please forward the following survey to your network, practitioners or people involved in BCP/BCM.

Business Continuity COVID-19 Survey

The questionnaire is composed of five parts: (1) BCP/BCM, (2) Remote work and efficiency in the reaction to COVID-19 (3) Financial and operational contingency actions; (4) Crisis Management Committee; (5) General questions. The survey is anonymous.
Thank you for attention and collaboration!
Prof. Oliviero Roggi, RBF, UNIFI (Italy) and Fundação Dom Cabral, Brazil (TT: @olivieroroggi)
Prof. Małgorzata Iwanicz-Drozdowska, SGH – Warsaw School of Economics, Poland (TT: @mid_prof)
Prof. Paola Bongini, University of Milan-Bicocca, Italy (TT: @pbongini)